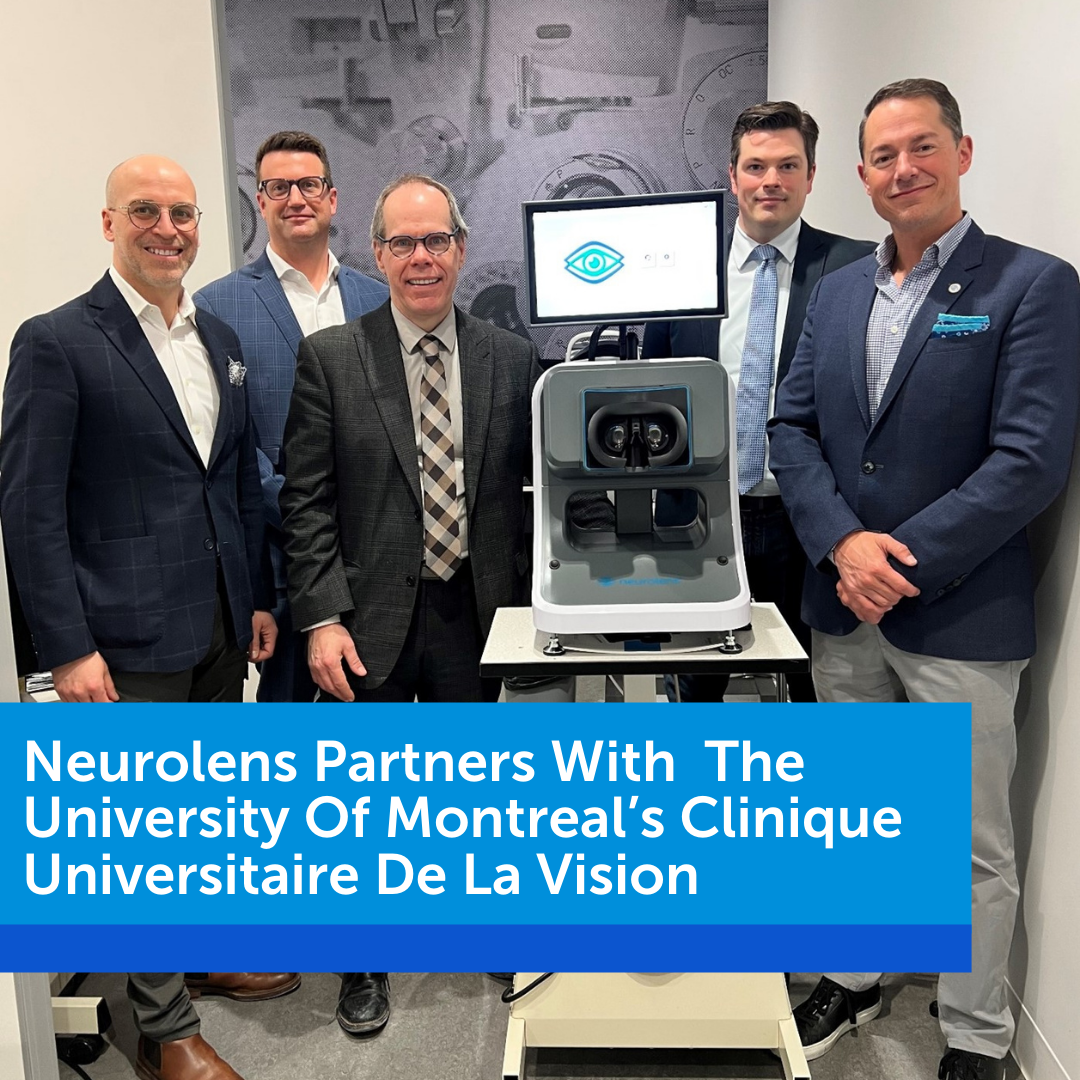 Neurolens Partners With The University Of Montreal's Clinique Universitaire De La Vision
Joint projects will fuel Neurolens clinical foundation and future product innovations.
Coppell, Texas, March 7, 2022 – Aspiring to redefine the industry standard by providing eyecare that goes beyond visual acuity, Neurolens continually strives to forge partnerships that strengthen its clinical foundation. This is especially important given the sharp acceleration in remote working and learning, as optometrists have reported record numbers of patients experiencing the symptoms of eye misalignment such as headaches, eye strain, and neck pain. Neurolenses have been proven to efficiently alleviate these symptoms.
To fuel continued growth, Neurolens continues to invest heavily into R&D initiatives, developing new technologies and clinical research initiatives. These, in turn, lead to continued transformation of the eyecare industry. A key driver of these initiatives is partnership with leading schools of optometry such as the École d'optométrie de l'Université de Montréal. The two organizations will partner on several collaborative projects intended to define future product line enhancements and conceptualize product innovations, particularly in myopia control.
"We are thrilled and honored to partner with an institution with a well-known reputation for innovation like the École d'optométrie de l'Université de Montréal," said Pierre Bertrand, CEO of Neurolens. "We are announcing a major donation of a 2nd generation Neurolens measuring device (NMD2) to the Clinique Universitaire de la Vision. This exciting partnership will help us define our innovation roadmap for years to come, and allow us to drive even more life-changing patient outcomes."
Founded in 1910, the École d'optométrie de l'Université de Montréal trains tomorrow's eyecare professionals in the highest quality services at the front line of eye care, in partnership with other health professionals, and in close collaboration with ophthalmologists. The school is able to quickly adapt its curriculum to address rapid societal challenges such as children's vision and treatment of visual disorders related to learning difficulties, the impact of technological devices on vision, neuro-optometry related to post-concussion ocular manifestations, and tele-optometry.
"According to Dr. Langis Michaud, Optometrist and Director of the School of Optometry, "Innovation is in the DNA of our School. Considering the rapid changes we are subjected to, it is important to use the latest technology to help diagnose and treat visual anomalies. Neurolens' major donation opens doors to innovative technologies that will benefit our patients. In addition, by developing a research partnership, we will be able to pool our strengths and develop products that will meet the visual needs of this technological age where children's eyes are under great strain. We are excited to partner with Neurolens to fuel that will allow the industry to continue to adapt to the changing needs of patients worldwide."
To learn more about the University de Montréal School of Optometry, please visit their website at opto.umontreal.ca.
###
###
About Neurolens
Inspired by a breakthrough discovery linking optometry and neurology, Neurolens is unlocking a new dimension of vision care. With patented Contoured Prism technology, Neurolenses are the first and only prescription lenses that go beyond visual acuity to provide visual comfort for the nearly 65% of US adults who complain of headaches, neck/shoulder pain and eyestrain when using digital devices, reading or doing detail work. The Neurolens Contoured Prism design helps the eyes work together comfortably, bringing the eyes into alignment to relieve painful symptoms. Technology from Neurolens is only available to Independent Eye Care Providers.
To learn more about Neurolens, please visit our website at https://www.neurolenses.com/.
En français:
NEUROLENS S'ASSOCIE À LA CLINIQUE UNIVERSITAIRE DE LA VISION DE L'UNIVERSITÉ DE MONTRÉAL
Les projets conjoints favoriseront l'apport clinique de Neurolens et le développement de produits novateurs
Coppell, Texas, 7 mars 2022 – Aspirant à redéfinir la norme de l'industrie en procurant des soins de la vue qui dépassent la simple acuité visuelle, Neurolens s'efforce sans cesse de tisser des partenariats qui renforcent son apport clinique. Cela revêt une importance particulière dans un contexte où le télétravail et l'apprentissage à distance connaissent une croissance marquée. En effet, les optométristes ont constaté un nombre record de patients souffrant de symptômes de désalignement des yeux, notamment des maux de tête, de la fatigue visuelle et des douleurs au cou. Les verres Neurolens ont démontré leur capacité à soulager efficacement ces symptômes.
Pour favoriser sa croissance soutenue, Neurolens continue d'investir massivement dans la R et D, le développement de nouvelles technologies et la recherche clinique. Ceci permettra une transformation continue de l'industrie des soins de la vue. Parmi les éléments clés de ces initiatives, notons un partenariat avec les principales écoles d'optométrie, notamment celle de l'Université de Montréal. Les deux organisations s'associeront dans le cadre de plusieurs projets de collaboration afin de définir les améliorations de nos gammes de produits et de conceptualiser les produits innovants de demain, notamment en contrôle de la myopie.
Nous sommes fiers et honorés de nous associer avec une institution dont la réputation en matière d'innovation n'est plus à faire comme l'École d'optométrie de l'Université de Montréal, » a déclaré Pierre Bertrand, président et chef de la direction de Neurolens. « Nous annonçons un don majeur en offrant un appareil de mesure NMD2 de 2e génération à la Clinique Universitaire de la Vision. Ce partenariat prometteur nous aidera à définir notre feuille de route en matière d'innovation au cours des années à venir et nous permettra de changer encore plus la vie des patients. »
Fondée en 1910, l'École d'optométrie de l'Université de Montréal forme les professionnels de la vue afin qu'ils fournissent les soins de première ligne de la plus haute qualité en partenariat avec les autres professionnels de la santé, et en étroite collaboration avec des ophtalmologistes. L'École est en mesure d'adapter rapidement son curriculum pour tenir compte de plusieurs enjeux de société, comme la vision des enfants et le traitement des problèmes visuels en lien avec les troubles d'apprentissage, l'incidence des dispositifs technologiques sur la vision, la neuro-optométrie liée aux manifestations oculaires post-commotionnelles, et la télé-optométrie.
Selon le Dr Langis Michaud, optométriste, et directeur de l'École d'optométrie. : « L'innovation est inscrite dans l'ADN de notre École. En tenant compte des changements rapides auxquels nous sommes soumis, il est important d'utiliser la plus récente technologie afin d'aider au diagnostic et au traitement des anomalies visuelles. Le don majeur de Neurolens nous ouvre des portes vers des technologies innovantes dont bénéficieront nos patients. De plus, en développant un partenariat en recherche, nous pourrons mettre en commun nos forces et développer des produits qui répondront aux besoins visuels de cette ère technologique où les yeux des enfants sont sursollicités. Nous sommes enthousiastes à l'idée de travailler en partenariat avec Neurolens pour favoriser les innovations qui permettront à l'industrie de s'adapter aux besoins changeants des patients à l'échelle mondiale. »
Pour en savoir plus sur Neurolens, veuillez visiter notre site Web, à l'adresse neurolens.ca. Pour en savoir plus sur l'École d'optométrie de l'Université de Montréal, veuillez visiter leur site Web, à l'adresse opto.umontreal.ca.
###
À propos de Neurolens
Inspirée par une découverte révolutionnaire établissant un lien entre l'optométrie et la neurologie, Neurolens introduit une nouvelle dimension aux soins de la vue. Grâce à la technologie brevetée de prisme profilé, les verres Neurolens sont les premiers et les seuls verres de prescription qui vont au-delà de la simple acuité visuelle pour fournir un confort visuel pour les quelque 65 % d'adultes qui se plaignent de maux de tête, de douleurs au cou/aux épaules et de fatigue visuelle lorsqu'ils utilisent des appareils numériques, lisent ou effectuent des travaux de minutie. Le prisme profilé Neurolens aide les yeux à travailler ensemble plus confortablement en alignant les yeux pour soulager les douloureux symptômes. Les technologies de Neurolens sont seulement disponibles auprès des professionnels de la vue indépendants.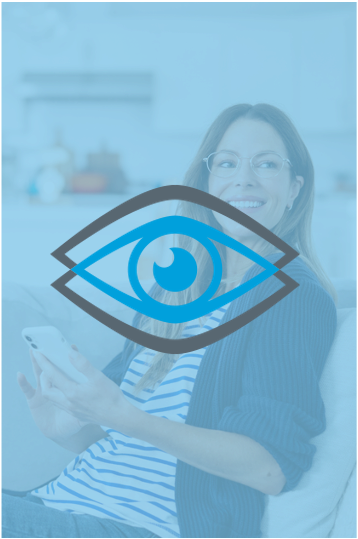 Nearly 2/3 of adults experience the painful symptoms of eye misalignment, including chronic headaches, neck pain, eye strain and dry eye sensation. Fortunately, relief is in sight with Neurolenses, which go beyond visual acuity to restore naturally comfortable vision.